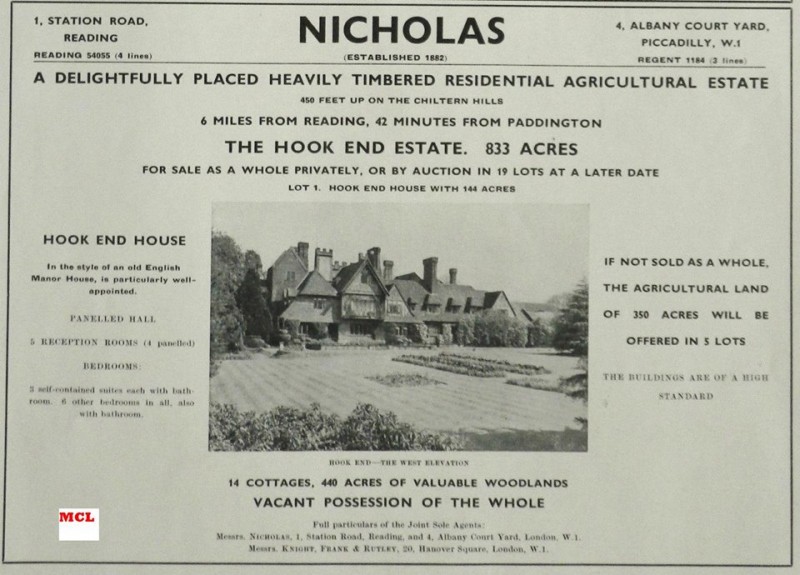 Following William Richard Nicholas' death at the age of 36 on the 4th November 1901 his estate was left to his mother Araline, his sister Araline Emma Nicholas and his cousin Albert Frederick Gamlen.
A year later in November 1902 there is a notice in the Reading Mercury to all creditors to make themselves known by the 10th December 1902 after which time the estate will be distributed to the family: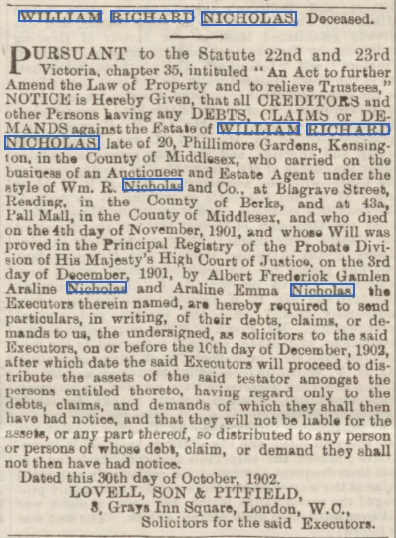 Nicholas, Denyer & Co
From 1906 Nicholas estate agents is advertised as Messrs. Nicholas, Denyer & Co.
Mr Richard Watkin Denyer an auctioneer from Tunbridge Wells purchases Nicholas Estate Agents from the Nicholas family and trades under both names. He moves the Reading office from 1 Blagrave Street, Reading (opposite the town hall) to King Edward Buildings, 1 Station Road, Reading (on the corner of Friar Street) and fits the sign 'Nicholas' to the building. The 'Nicholas' signage can be seen in the following photograph of Friar Street dated 1937 (the first building on the right above the doorway):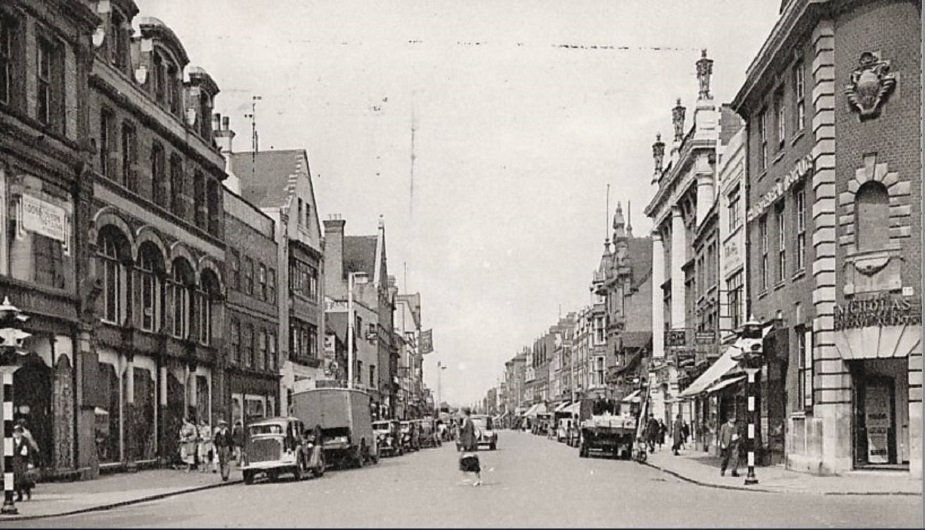 Nicholas, Denyer & Co also operate from the London office 43 Pall Mall and at Tunbridge Wells and by 1909 in Newbury.
Messrs Nicholas, Denyer & Co advertise properties for sale and auction in many local and national newspapers including The Reading Mercury, The Bystander and The Illustrated Sporting and Dramatic News – you can see a full page advert in The Bystander dated Oct 13 1909 below. In this advertisement Nicholas, Denyer and Co have fifteen properties for sale and to let across the South, South East and South West in locations including Sussex, Dartmoor, Devon, Dorset, Chelmsford and the Cotswolds.
£4000 in 1909 would buy you an eleven bedroom manor house with four reception rooms, 2 cottages, stables for 5 horses, some farmland and 24 acres in South Berkshire. (The equivalent value in 2017 is £440,000).
Richard Watkin Denyer passes away in 1931 at the age of 64. His obituary reports he passed away in London after a long illness having retired five years previously. In addition to Nicholas, Denyer & Co he also ran businesses named Denyer and Collins, and Denyer and Rumble.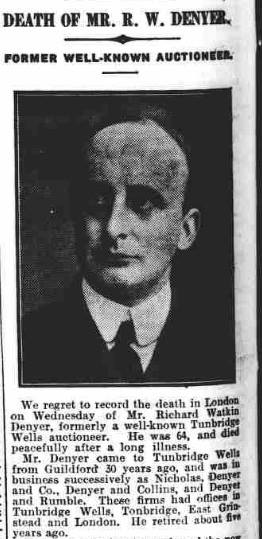 By 1955 Nicholas estate agents (established 1882) are still at 1 Station Road, Reading and we also have an office at 4 Albany Court Yard, Piccadilly West London. If you wanted to phone Nicholas Estate Agents in 1955 you would call Reading 54055 or Regent (London) 1184. We advertise for sale or by auction The Hook End estate (Hook End near Checkendon in Oxfordshire, 6 miles from Reading) the estate is a huge 833 acres which includes Hook End manor house with 144 acres, 350 acres of agricultural land and 14 cottages with 440 acres of woodlands.
Hook End manor has a prominent history in music recording – the world famous Hook End recording studios - which we will expand on...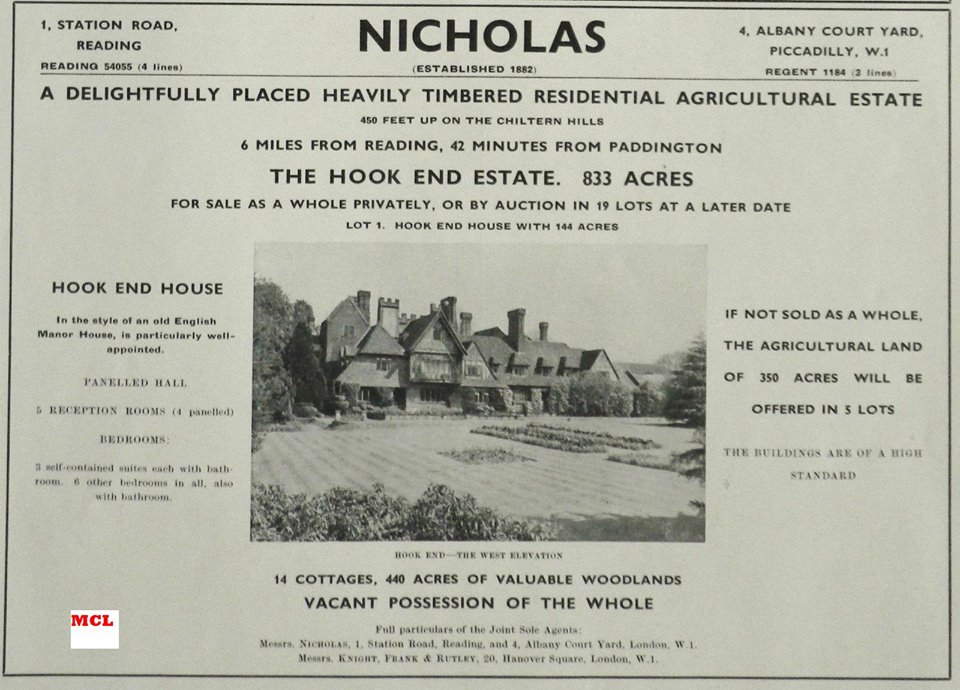 Hook End Recording Studios
From Red Shark News © Jim Edwards "A 16th Century Elizabethan house, Hook End Manor is set in a delightful rural location in Oxfordshire…It is surrounded by beautiful parkland and gardens, including Britain's oldest Monkey Puzzle tree.
The manor house was originally built for the Bishop of Reading in 1580. Later additions to the house include the oak panelled dining room, which probably dates from the 1920s. The Tudor heart of the house is the oak panelled reception hall and up a flight of stairs leads to the charmingly eccentric bedrooms, some designed by previous owner David Gilmour of Pink Floyd, others by another previous owner, financier Charles Clore.
The musical history of Hook End Manor began in the 1960s with Alvin Lee of Ten Years After, who resided there for some time before selling it to Dave Gilmour of Pink Floyd. Gilmour recorded parts of Pink Floyd's 1987 album, A Momentary Lapse of Reason, in a studio at the house.
It was then bought by West Side Productions, producers of Madness and Morrissey. In the 1990s, the manor was purchased by (record producer) Trevor Horn, who spent a not inconsiderable fortune creating the studio and equipping it. It would run as a successful business operation under the Sarm flag for a good number of years, the celebrity guest book filling impressively over the period."
Recording artists who resided at Hook End manor to record albums include The Manic Street Preachers, The Cure, Mariliion, David Sylvian (formerly of band Japan), The Spice Girls and Morrissey. Visitors to the studios include David Bowie.
Hook End recording studios still operate under the ownership of Mark White who purchased the estate from Trevor Horn in 2009 for £12m.
Reading obviously has a 'noteworthy' music history with the three day Reading festival held at Little John's Farm, Richfield Avenue since 1971 featuring rock, blues, punk and new wave bands, heavy metal and more.
Nicholas Estate Agents continue to be the estate agent of choice in Reading with office expansion in the 1980's. (more on this in the next article). To be continued...
Our history page: https://www.nicholas1882.co.uk/nicholas-history
Sources / Useful Links:
Red Shark News history of Hook End Recording studios https://www.redsharknews.com/audio/item/4183-studio-profile-hook-end-manor?fref=gc&dti=189178707765734
Wikipedia - Hook End Recording Studios https://en.wikipedia.org/wiki/Hookend_Recording_Studios
Wikipedia - Reading and Leeds festivals https://en.wikipedia.org/wiki/Reading_and_Leeds_Festivals
The British Library newspaper archive https://www.bl.uk/collection-guides/british-newspaper-archive