William Richard Nicholas
Nicholas Estate Agents was founded in Reading in 1882 by 17-year-old William Richard Nicholas an architect from Southampton. He was born in Hackney, London on the 5th March 1865. His father had the same name - William Richard Nicholas (1843 – 1874) who worked as a chemist and his mother was Araline Nicholas nee Gamlen (1835 – 1929). He had a younger sister Araline Emma Nicholas (1866 – 1928) and a brother Archie E Nicholas who died as an infant (1867). The family lived in Amherst Road, Hackney, London.
When William was 9 his father William Richard Nicholas senior died, he was only 31 years old. When William was 16 he was a lodger with his mother and sister in Southampton. William is named in the 1881 census as an architect (unemployed).
The following year, 1882 the family moved to Reading and he founded Nicholas Estate Agents. Why Reading? We know that William's uncle, Will W John Gamlen lived in Caversham, Oxfordshire (Caversham was part of Oxfordshire until county boundary changes in November 1911). It may have been the support of her brother that persuaded widow Araline Nicholas to move to Reading with her children.
Nicholas Estate Agents' first office was registered at 85 Broad Street, Reading – the earliest date we know of this office is 1885 and the business was run as an Auctioneers, Estate Agents and Valuers.
In 1888 the office was moved to 1 Blagrave Street, Reading – opposite the town hall - in a building since demolished in 1929 which is currently the site of O'Neill's pub. William ran a very successful business. This enabled him to open a second office in West London at 60 Pall Mall, Kensington. The featured image for this article is an advertisement for Nicholas Estate Agents (Messrs. Wm. R. Nicholas & Co, Auctioneers, Estate Agents and Valuers) from 1899.
Edwin John Springbett Jesse and Elm Park
One of the best-known builders in Reading's Victorian history is Edwin John Springbett or EJS Jesse, a property developer and town councillor who transformed several plots of land including The Warren in Caversham, Whitley Rise, and parts of Emmer Green and central Reading. EJS Jesse is immortalised with the road name 'Jesse Terrace' off Castle Hill in central Reading, where he lived.
In 1888 Nicholas Estate Agents worked with EJS Jesse on the sale of a property called Elm Lodge which was turned into a housing development known as Elm Park which runs from Western Elms Avenue off the Oxford Road up to Tilehurst Road and across to Wilson Road - this site included the original Reading football ground, Elm Park stadium (the home of Reading FC from 1896 to 1998) and was the site of Huntley and Palmer biscuit factory which gave Reading football team the nickname 'Biscuit Men'. It also included Berkshire County Cricket ground – see boundary marked in red on the below map: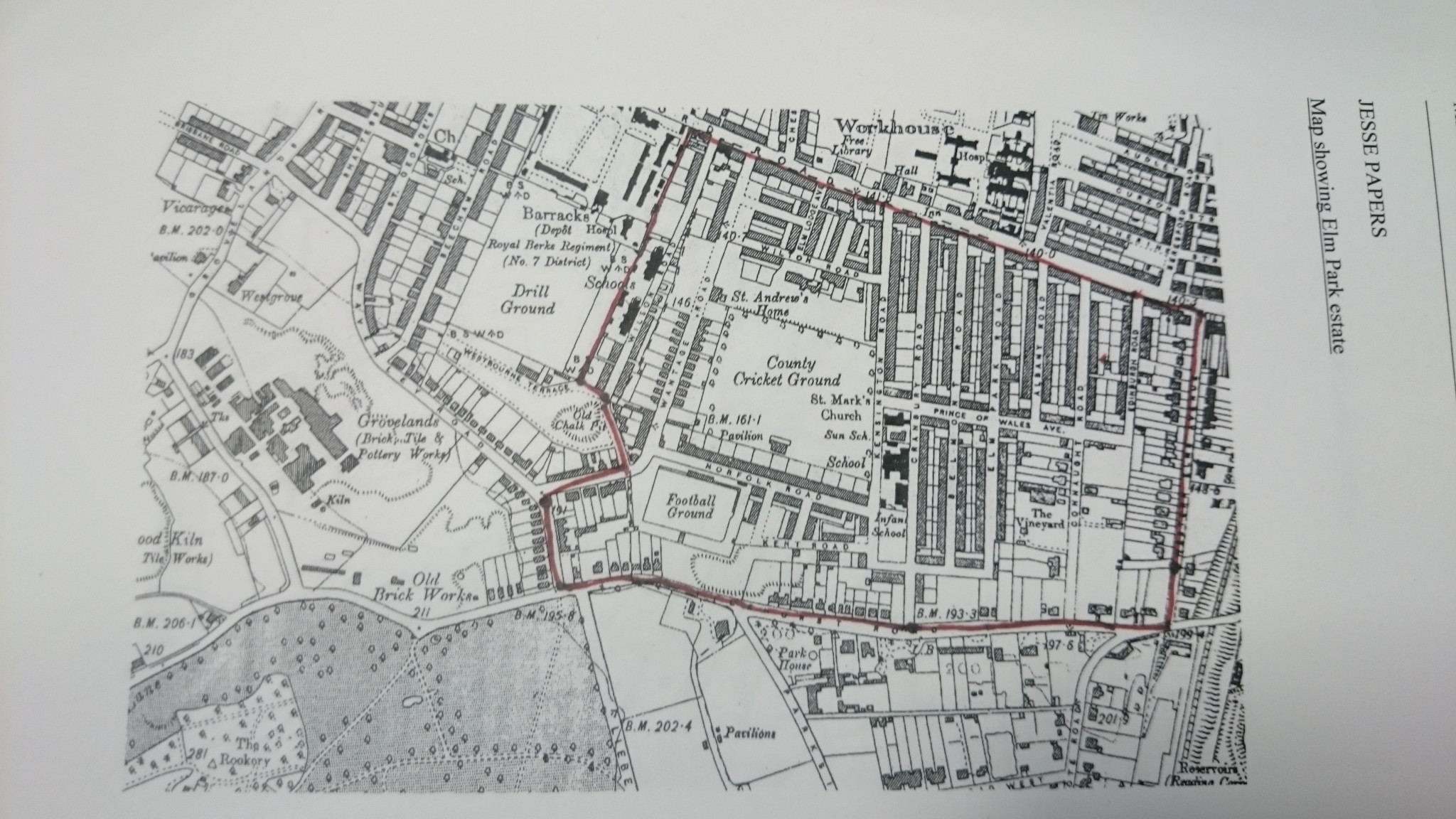 Elm Lodge originally comprised of Elm and Chestnut trees and there are accounts in Berkshire Records Office of William Richard Nicholas' commission on the sale of trees, timber, turf and gravel and advertisements for the purchase of these in The Reading Observer, The Berkshire Chronicle and the Reading Standard. William Richard Nicholas also received commission on the sale of land including at Elm Park Road, Kensington Road, Prince of Wales Avenue, Oxford Road, Tilehurst Road, Belmont Road, Norfolk Road and Grovelands Road.
We know that William Richard Nicholas's commission for his work on Elm Park was "two guineas as a lump sum or two pounds ten shillings, whichever sum may be greater on all sales made on the estate. Such commission to be exclusive of all disbursements for printing, advertising or travelling incurred on behalf of the said estate".
Expansion and Death
In 1901 William Richard Nicholas moved the London office of Nicholas Estate Agents to 43 Pall Mall, Kensington. If you wanted to call Nicholas Estate Agents in 1901 you would phone 'London 5293' or 'Reading 221'.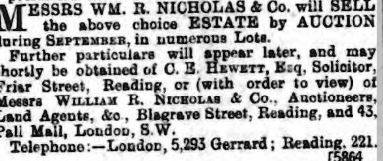 In 1891 William Richard Nicholas lived at Norbiton House in Maitland Road, Reading. By 1901 William and his family (his mother and sister) were living at 20 Phillimore Gardens in Kensington, West London with two servants both called Mary (a domestic cook and a housemaid). William's occupation is recorded in the 1901 census as 'Auctioneer, Valuer & Land Agent'. We also know from the census that he was an employer.
Did you know - Nicholas Estate Agents still auction properties! See https://nicholasestateagents1882.iamsold.co.uk/
William Richard Nicholas passed away on the 4th November 1901 and sadly, like his father before him was only in his thirties. There were several notices of his death in newspapers. From the Reading Mercury: "Mr Nicholas, who was only 36 years of age, was the founder of a very large and successful business, and was known to and respected by a very wide circle, combining as he did rare business talents with most upright and genial personal characteristics."
Another newspaper reported "Deceased was articled at Southampton, and at the age of 20 he commenced business at Reading. He was entrusted with the sale of many important country estates and had occasionally held sales at Swindon of some large estates. It was only a few weeks ago that he was in Swindon conducting one of these large sales."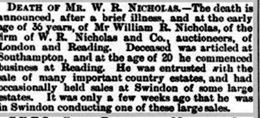 All this hard work had made William Richard Nicholas a small fortune. His estate was worth £10,180 and 8 shillings and 9 pence which in today's money (2017) is approximately £1.1 million. William was a bachelor and left the bulk of his fortune in his probate dated 3rd December 1901 to his mother Araline, and to his sister Araline Emma Nicholas and his cousin Albert Frederick Gamlen.

Notice of William Richard Nicholas probate (above) and announcement of death in the Reading Mercury, published 9th November 1901 (below)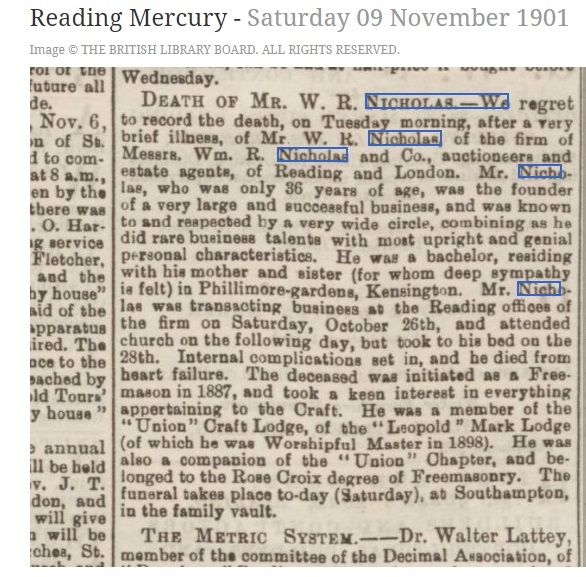 William Richard Nicholas was buried in the family vault in Southampton (more on this in the next article). To be continued...
© Nicholas Estate Agents
Our history page: https://www.nicholas1882.co.uk/nicholas-history
Useful Links:
History of EJS Jesse from 'Old Reading' group on facebook https://www.facebook.com/groups/Old.Reading/
Berkshire Records Office https://www.berkshirerecordoffice.org.uk/
Nicholas History page https://www.nicholas1882.co.uk/nicholas-history
'The Reading Area - Memories of Another Day' facebook group https://www.facebook.com/groups/Reading.Memories/

'Memories of Old Reading' facebook group https://www.facebook.com/groups/memoriesofoldreading/